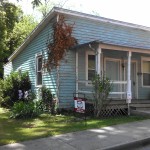 This sweet little 2 bedroom cottage in downtown Historic Lexington, Virginia, is now under contract and slated to be sold at the end of June.   With commercial zoning and previous residential use, it has flexible usage options.  In addition, as a contributing building in the Lexington Historic District, it is a candidate for state and federal rehab income tax credits, which return up to 45% of rehab expenses to the owner upon completion of a qualifying rehabilitation project.
The Harlow family acquired the home on its very large park-like lot (nearly an acre) in the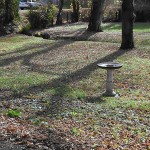 mid-20th century.  It was owned in the late-19th and early-20th centuries by the Sheridan family, who operated a livery and stable a block away (the "Sheridan Livery Inn" on N. Main). The property is historically known as the "Back Spring Lot," after the very bold spring in the back yard that serves as a principal source of water for Town Creek, a tributary of the Maury River.  As one of downtown's only "waterfront" properties, it offers a shady respite from the summer heat.
The building's unusual shed roof with a tall front parapet-like façade lends the cottage a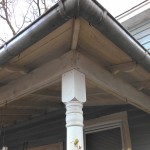 less-residential look than other houses nearby; the two 4-panel front doors suggest it was  previously used either as a duplex or as a house + shop/office. The cottage appears to have been built in at least two stages, and was last renovated in the 1990s. Original wood siding, a 1920s Craftsman-style front porch with exposed rafters and shaped rafter tails, and most of the stone perimeter foundation are some of the cottage's intact character-defining features.  The turned wooden posts are 1990s replacements of what were likely plain square posts.
If you're an investor or business owner looking to buy or sell a house or commercial property such as this one located in Historic Lexington, please get in touch.  540-460-2201 or [email protected]